What is Reverse Osmosis Water Filtration?
There are many ways to filter the water in your home and Rooter Hero Plumbing is thrilled to be your source for reliable whole-house water filtration systems. These filters come in many sizes and types, with some that can be attached to faucets and others that filter all incoming water. There also various types of filtration methods. In this article brought to you by Rooter Hero Plumbing of Phoenix, we will describe reverse osmosis water filtration and its benefits. If you have any specific questions or concerns, or if you would like to schedule a whole-house water filtration installation, then call Rooter Hero Plumbing to get in touch with a live representative today. We are ready when you are.
Filtration Options
Let's face it: tap water can be gross. This is why so many people opt for bottled water, but that can be expensive in the long-term and is certainly no good for the environment. Others go with a more sustainable solution and employ single-point filtration systems or whole-house water filtration systems.
If you just want clean drinking water, then faucet-mounted filters or filtered pitchers should be enough. However, a whole-house water filtration system is better if you want the water in your washing machine, dishwasher, and shower to be clean as well. Rooter Hero Plumbing is proud to be a reliable source for whole-house water filtration systems.
There are also the different filtration methods including ion exchange filters, sequestration filters, and absorption filters. One of the most common and popular is reverse osmosis filters, the focus of this article.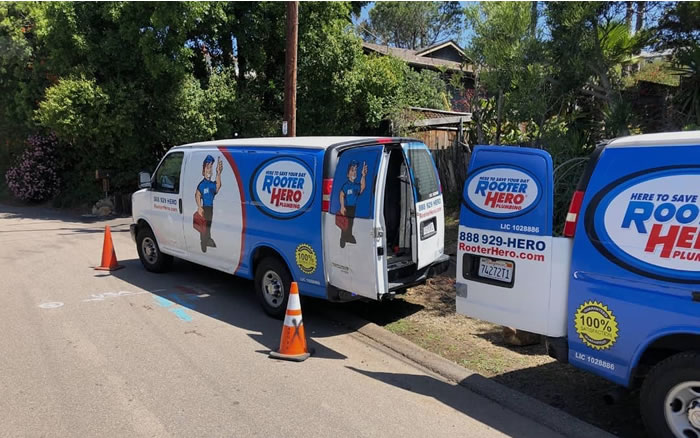 What Is Reverse Osmosis?
Reverse osmosis is a filtration technology that uses a semipermeable membrane to separate inorganic contaminants from the water. The pores of the membrane can be as small as 0.0001 microns, meaning it can catch up to 99 percent of contaminants in water. Here is how it works.
Reverse osmosis filtration systems have several canisters and tubes that connect to a water holding tank. The water will go usually go through three layers of filtration.
The first canister has a carbon filter that will catch large debris like sediment, chlorine, and other dissolved solids. The second canister houses a reverse osmosis membrane which allows pressurized water through but blocks arsenic, barium, bacteria, copper, lead, and even virus molecules. Finally, water passes through another carbon filter to catch anything the previous two canisters may have missed. The filtered water will then be stored in a pressurized water tank for later use.
Advantages of Reverse Osmosis
Reverse osmosis filtration systems offer some of the strongest filtration of contaminants found in water and produces pure and clean drinking water. It also has a generous lifespan of two to three years. Plus, maintenance is simple. You will just have to change the filters once every six months. Easy.
Call Rooter Hero Plumbing
If you are tired of buying bottled water, then call Rooter Hero Plumbing to get trustworthy plumbers in Avondale and learn more about our reverse osmosis filtration system installations. We are happy to arrange a flexible appointment that works with your schedule.