Tips to Unclog a Garbage Disposal
A garbage disposal is a handy device used in kitchens all around, but many people take the garbage disposal for granted. Perhaps it is too good at its job. Or is it? Check up on your garbage disposal every now and then to make sure it's at its best. Clogging is a common issue, and we are here to offer some tips on how to unclog your garbage disposal. If you have any specific concerns and need a dependable plumber, or you need a garbage disposal replacement or repair, then feel free to call Rooter Hero Plumbing of Phoenix. Our live representatives are always happy to help.
Try This First
Before you take apart your kitchen sink, let's try a quick remedy. Pour a half cup of baking soda into the sink and follow it up with a cup of white vinegar. The ensuing chemical reaction should break apart many common blockages. After the fizzing stops, in about 15 to 30 minutes, you can rinse with a couple of liters of hot water. A large pot should be enough.
First Thing's First: Safety
Working on a garbage disposal is NOT safe work. You do NOT want to get your fingers crushed, nor do you want to get shocked while working on the plumbing. Start by switching off the circuit breaker for the garbage disposal. Also, take off jewelry and change out of any loose clothing.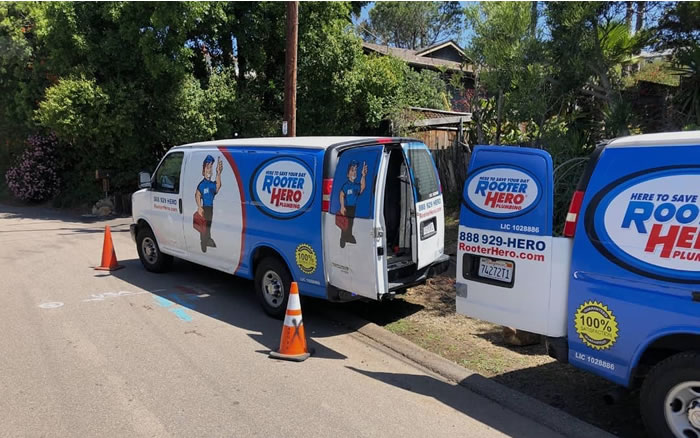 Prepare the Work Area
Unclogging the garbage disposal can be messy work. Clear out the area under the sink and lay down some towels there. Also, bring a bucket to catch any wastewater and gunk that might come through the drains. Removing any rugs will be a good idea as well.
Remove the P-Trap
The P-trap is a drain that connects the kitchen drain to the building's plumbing system. It gets its name from its shape; it resembles a downfacing letter "P." That down-arch is an engineering feature designed to keep gases from escaping the plumbing system and making your kitchen reek. The P-trap also prevents some solids from entering the plumbing system and clogging it. Remove the P-trap and dislodge any objects inside. Give it a good flush or cleaning if you can.
Whip Out the Drain Snake
While you have the P-trap removed, you can whip out the handy-dandy drain snake and check the drain for any blockages. Insert the drain snake into the piping leading into the wall until you feel pressure of the foreign object(s). Push your drain snake further to push through the blockage. Once you feel the drain snake get through the blockage, you can pull it back and clean off the head of the drain snake. Do this a few more times to clear out the clog as well as possible. Replace the P-trap when you are done.
Try the Plunger and Elbow Grease
With the P-drain re-installed. You can test for a blockage again. If the blockage continues, then your issue might be deep in the drain line. A plunger can help with those. Many times, however, you might need plumbers to take care of that.
Still Having Problems?
If your garbage disposal is the culprit and you are considering a garbage disposal replacement, then call Rooter Hero to speak with a representative. Our plumbers can give the issue another shot before moving forward with the replacement. Call now to ask for your free price estimate.