Signs Your Property Needs Repiping
For most homeowners, the plumbing system and sewer line work their wonders quietly and are often taken for granted. For others, the result of damaged pipes and drains make them wonder whether the building is falling apart. If you are wondering whether it is time to have a part of your plumbing system re-piped, then consider some of these tell-tale signs that it is time. You are welcomed to call Rooter Hero Plumbing of Phoenix with any questions or concerns. We are happy to schedule a flexible appointment or arrange an urgent dispatch for a reliable repiping in Mesa.
Discolored Water
Discolored water, and even stinky water, is a sign that the water supply is contaminated, but with what? The water source itself could be affected, but you would definitely hear about that on the local news channel. It could also be that your plumbing system is altering the water. Corrosion, rust, and mineral buildup are common culprits when it comes to discolored or smelly tap water. Repiping those damaged pipes can help.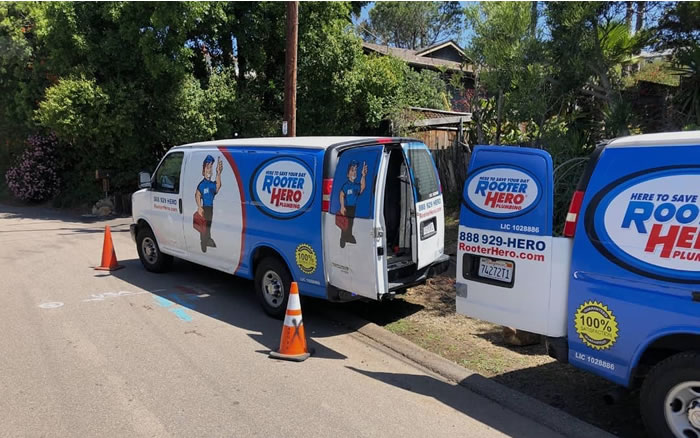 Banging, Clanging, and Creaking Noises
Do you hear banging, clanging, and creaking noises coming from inside of your walls? No, those are not ghosts. More likely, they are the sounds of old pipes and pumps. Corroded pipes, joints, and connectors allow the pipes to jiggle and rub against parts. The noise can also indicate air access and pipe damage. It's okay to hear a noise every now and then, but if those noises are persistent, then call Rooter Hero Plumbing of Phoenix to schedule an appointment.
Recurring Leaks
Leaking is one of the most obvious and common signs that you have a problem with your pipes, especially if the leaks will not succumb to repairs. Leaks due to punctures are usually resolved with a targeted repair, but recurring leaks indicate that your plumbing system is getting old. As pipes decay and wear down over time, patches of piping may deteriorate quicker. These weakened sections are prone to leaking. Instead of calling a local plumbers in Sun City for another repair, just call Rooter Hero Plumbing to arrange a repiping.
Poor Performance
Your plumbing system is meant to perform two basic tasks efficiently and effectively: delivering clean water TO and disposing of waste and wastewater AWAY FROM your building. Granted, certain pipes have specific jobs like heating. If your plumbing system is performing poorly, then it may be due to poorly installed or irreparably damaged pipes. These worthless pipes can cause water temperature and water pressure issues. Those are nothing a repiping cannot fix though.
Visible Rust and Corrosion
Rust and corrosion are usually the root causes of the aforementioned signs, therefore these two should be obvious. If you notice rust and corrosion on visible pipes, then call Rooter Hero Plumbing to have them repiped as soon as possible.
Rooter Hero Plumbing Is Ready to Help
The plumbing system is the backbone of your building's sanitation system, so there is no time to waste when it is faulty or damaged. Call Rooter Hero Plumbing to speak with a live representative and arrange an urgent plumber dispatch.