Signs You Need a Sewer Line Inspection
If you are a homeowner or business owner, then you should know that the sewer line is a vital component of your building. It is the cornerstone of your building's sanitation. Thanks to the sewer line, waste and wastewater generated by your household or business are readily ejected into the sewer system. It is so important that you take care of your sewer line if you want to continue enjoying its convenience and health benefits.
In this article brought to you by Rooter Hero Plumbing of Phoenix, we will go over some signs of a faulty sewer line. The sooner you catch these signs, the better. Feel free to call Rooter Hero Plumbing of Phoenix with any of your questions and concerns. We are always happy to help.
Foul Odors
The plumbing and sewer system is a network of pipes and drains designed to safely contain and transport waste and wastewater away from your property. Ventilation systems and p-traps are a couple of the mechanisms that work to keep foul odors from rising up the drains and into your living space. If you get whiffs of gas or sewage in your home, then it might be time to call in the professionals for a sewer line inspection in Phoenix.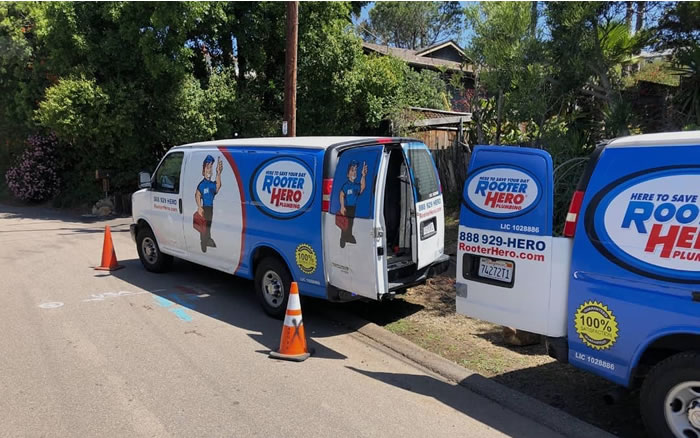 Slow Drainage and Backups
The pipes and drains in the sewer system should have been installed to allow waste and wastewater to freely flow down. Tree roots, gunk buildup, and misaligned pipes can negatively impact this flow, causing slow drainage and water or sewage backups. What goes down should not come back up. If you are experiencing slow drainage, gurgling sounds, and water or sewage backups, then call Rooter Hero Plumbing of Phoenix to request a dispatch to your location. A sewer line cleaning or repair might be necessary.
Pooling Water
A leak is extremely common, but the source of the leak varies. Pooling water is not necessarily a sign of a faulty sewer line because appliances and other pipes are just as likely to leak. However, if you notice the puddles of water are rancid and especially if they are outside, then it would be wise to hire a nearby emergency plumber in Glendale to take a look.
Patches of Overly Green and Lush Grass
At first sight, you might admire patches of overly lush and green grass, but don't be fooled. Sewage is a natural fertilizer. If your sewer line is leaking, then certain spots in the yard might begin to thrive. While the green grass is appealing, the underlying cause is a problem and you should have it checked out as soon as possible.
Bug and Rodent Infestations
Bugs thrive in sewage and rodents feed off of it. If you notice critters and crawlies around your property, then your sewer line might be what is inviting them. Call Rooter Hero Plumbing (as well as pest control) if you notice these intruders on your property. Our lines are open 24 hours a day and 365 days a year. Call Rooter Hero Plumbing any time to get in touch with a live representative.