Most Frequently Asked Plumbing Questions
The plumbing system is a network of pipes, pumps, and other components which work together to deliver clean water to and discharge waste and wastewater away from your property. As a central part of your building's structure, the plumbing system should be maintained with utmost mindfulness and repairs should never be delayed. Your friends at Rooter Hero Plumbing of Phoenix are always ready to help with top quality plumbing service and repairs, and we are also happy to address any of your questions and concerns. Here are some of our thoughts on frequently asked plumbing questions. Feel free to call Rooter Hero Plumbing of Phoenix if you would like to consult with or hire a qualified plumbers in Peoria.
Why Is My Water Bill So High?
If your water bill has spiked, then that must mean you are using more water. Simple enough, right? Well, there might be more to the story. Though replacing old and outdated plumbing fixtures, toilets, and appliances with newer, more water-efficient models can save you on water bills, the real culprit might be a leak.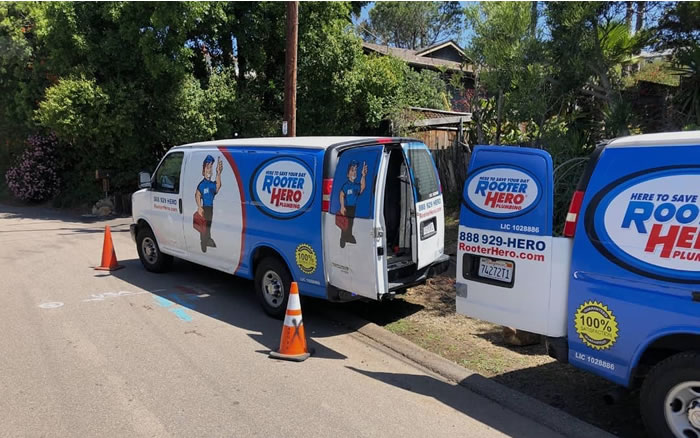 If you have addressed water-usage by shortening your showers, filling dishwashers and laundry machines to their capacity, and installing water-efficient appliances, but your water bills are still high, then consider scheduling a leak detection and leak repair by calling Rooter Hero Plumbing of Phoenix today.
Do You Recommend Chemical Drain Cleaners?
Clogged drains can be a nuisance as they cause slow drainage, foul odors, and even water or sewage backups. Traditionally, people would use drain snakes and plungers to unclog the drains, but the market has become flooded with "easy-to-use" chemical drain cleaners.
However, the chemicals in these products can be toxic, harmful for your health and the plumbing system. These drain cleaners can poison children and pets, and they can deteriorate pipes from the inside out. For these reasons, we do not recommend chemical drain cleaners. Opt for natural cleaners or professional drain cleaning instead.
Why Do We Run Out of Hot Water So Quickly?
Depending on the type and age of your water heater there are a few reasons you might be unable to enjoy hot water for long.
First, you may have skipped out on maintenance for your water heater. Tankless water heaters use heating elements that should be routinely cleaned and even replaced. Tank-style water heaters, meanwhile, have many components such as the dip tube that should be maintained. Further, we recommend you flush your water heater tank once a year to remove sediment build-up.
It might also be that your water heater is simply not large enough to meet your household's demand. If you installed your water heater several years ago and since have brought in new appliances or household members, then it might be time to consider upgrading your water heater.
Can You Come Now?
Plumbing issues can turn into disasters in the blink of an eye. There is no time to wait overnight or through the weekend when water is gushing all over your floors. Fortunately, Rooter Hero Plumbing of Phoenix offers emergency plumbing service in Cave Creek. Call Rooter Hero Plumbing of Phoenix now to speak with a live representative and request an emergency dispatch.