How to Handle Pipe Bursts
It is not often that you deal with a burst pipe. For the most part, pipes are reliable, made of sturdy material like cast iron and steel. With proper care and routine maintenance, they can go for a century before needing to be replaced. Still, they are not indestructible. Fluctuating extreme temperatures, severe blockages, and even invasive roots can devastate pipes, leaving you with a huge mess to deal with. Rooter Hero Plumbing of Phoenix has years of experience repairing pipe bursts and we are ready to dispatch a competent plumber in Buckeye to your location as soon as within the hour. What can you do until then? This article will review some steps to take when your pipes burst.
Shut Off the Main Water Line
It can be easy to forget when you are in a panic, but you are obviously going to want to first stop the gush of water flooding your property. Hopefully you already know where your main water shutoff valve is located. The main water shutoff valve is typically found in the basement or on the perimeter of the house. If you cannot find it, then check the property inspection report you got when you purchased the property. Locate the valve and turn the water off as soon as possible.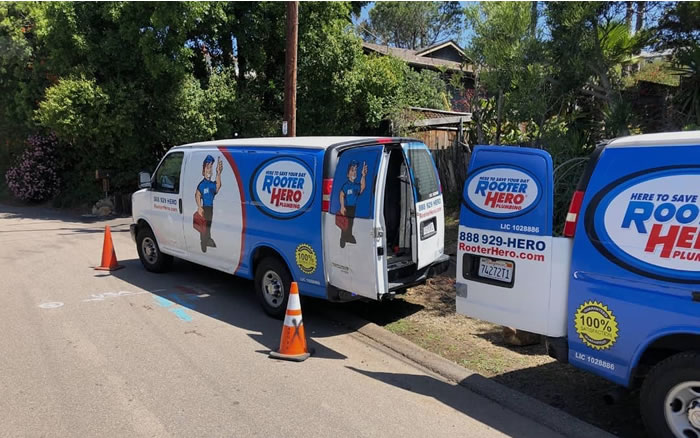 Shut Off the Electricity
Water and electricity can be a fatal combination. A burst pipe is going to stream water all over the place. If this water gets in contact with outlets, electronic devices, or electrical wires, then you can quickly have a disaster turn into a catastrophe. Turn off the electrical supply as soon as you can, but make sure that it is safe to do so! If you cannot safely access the electrical panel, then wait for emergency personnel to arrive!
Drain the Faucets
A common reason for a water line burst is undue pressure in the pipes. Oftentimes, this is due to frozen water in the line. When water freezes into ice, its volume expands by almost 10 percent! To alleviate this problem, you will have to reduce the pressure in the pipes. Relieve the pressure by draining all cold water taps and hot water taps, flushing toilets several times, and turning off the water heater.
Clean Up
Great, you have stopped the mess from getting worse, but the work does not end after you have contained the damage. All of that water on your floors and personal property is going to eat away at them. Grab a mop, bucket, and shop vacuum, then clean up as much of the water as you can. You should also document all of the damage. Photos and video footage are going to help your case when you file your insurance claim.
Hire A Plumber
Surely you are not going to leave the pipe as it is. If you have not already, then call Rooter Hero Plumbing of Phoenix to get in touch with a live representative and request an urgent dispatch. Our professional plumbers in Sun Lakes can dispatch to your location in as soon as within the hour!