How to Fix Clogged Garage Floor Drain
Your garage is neither indoors nor outdoors; it rests somewhere in between. It can protect your vehicles and belongings from the elements and can even serve as an entertainment area, personal gym, or workshop. However, it is often not heated and is still vulnerable to some elements such as rain and floodwater. Fortunately, many garages have floor drains to collect and redirect water away from the area. Of course, these drains are just as prone to clogging. Don't worry though. Rooter Hero Plumbing of Phoenix has some tips on how to fix that clogged garage floor drain. If you prefer to have the drains thoroughly cleaned, then feel free to call Rooter Hero Plumbing of Phoenix to schedule a professional drain cleaning.
Types of Garage Floor Drains
There are two primary types of garage floor drains. There is the round floor drain which resembles the drains in other parts of your home but is a bit larger. This is the more common type of garage floor drain and is usually up to a foot in diameter and covered by a grate. The second type of garage floor drain, the trench drain, is also covered by a grate, but this opening is rectangular and long. Trench floor drains are more expensive to install but are less likely to clog up.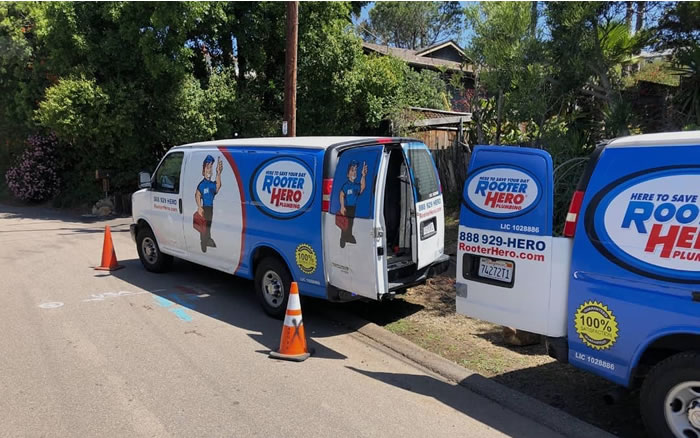 Unclogging the Garage Floor Drain
There is a lot that can clog your garage floor drain. Leaves, pet hair, clumps of dirt, and paper products are just some of the gunk that come to mind. Luckily, a lot of this debris will get caught in the trap and won't go deep into the drain line. Unclogging the garage floor drain will take some time but is not going to be very difficult.
Locate your garage floor drain by following the slope of the concrete. Next, take off the grate that covers the drain. You might need to unscrew or pry off the grate. Now that the grate is removed, you can grab a flashlight to inspect the drain to see what's going on inside. See if there is debris such as pet hair, leaves, dirt, solid objects, and so forth. You will want to remove as much of this debris as possible. You can use a trowel or drain snake for this job.
Once you have removed as much of the debris as possible, heat a pot of water and pour the hot water in the drain to break down and push out remaining debris. Do NOT pour boiling water or chemical drain cleaners as these can damage the drains. Once you are done, you can reattach the grate and keep your eye on the garage floor drain going forward.
Schedule a Professional Drain Cleaning
Unclogging the garage floor drain is not the same as cleaning it. Unclogging is often temporary but professional drain cleaning will give you clear drains and long-lasting results. Call Rooter Hero Plumbing of Phoenix to schedule your professional drain cleaning today. Our friendly representatives and dedicated plumbers in Gilbert are ready to take your call.