How Can Tree Roots Affect Your Plumbing
Homeowners enjoy having a beautiful yard. Gorgeous ornamental maples and tall, broad oaks can add to the value of your property as well. Unfortunately, the things that happen underground can counteract all those benefits. Root growth can cause a lot of plumbing issues, so property owners must keep a close eye on developing problems. At Rooter Hero Plumbing of Phoenix, AZ, we provide residential and commercial plumbing service for local clients. Whether you need a sewer line inspection or a total replacement, hiring a professional plumber can help ensure the longevity and wellbeing of your pipes. If you are worried about how tree roots can affect your plumbing system, read below for helpful tips and advice.
Why Are Tree Roots Such a Problem for Property Owners?
If tree roots successfully enter sewer lines, your pipes can quickly develop clogs, sewage backups, cracks, and other significant problems. If neglected, the roots can continue to proliferate in the nutrient, moisture-rich atmosphere. Eventually, it can lead to the weakening of your sewer line's structure and cause a total collapse, contaminating the environment and causing damage to your property.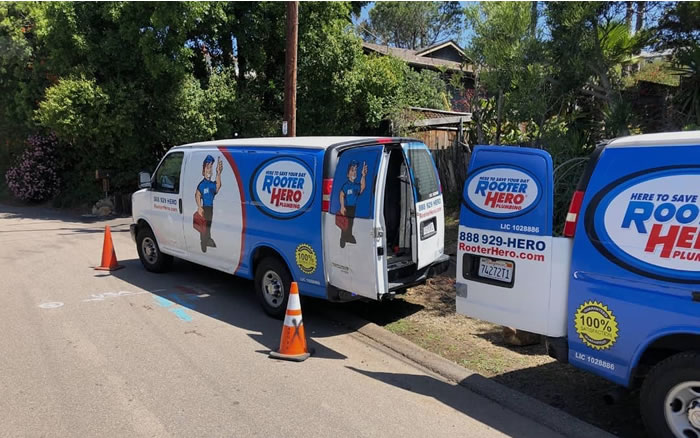 Common Signs That You May Have Tree Roots Inside Your Pipes
Thankfully, there are usually warning signs that will alert property owners way before the issue intensifies to the point of collapse. For example, you will likely experience leaks, a rise in monthly utility costs, foul odors, unusually lush areas of your lawn, soggy grass, slow drainage, and frequent wastewater backups. If you notice one or more of these problems, it is crucial to contact a trustworthy plumber who can inspect your system for root growth or pipe damage.
How to Prevent Tree Root Issues
If you want to avoid tree root invasions, then there are some steps you can take. Of course, this applies mainly to newly built homes since owners have little control over the habits and practices of previous families. Make sure that your landscape design prioritizes your plumbing system. Keep trees, shrubs, and ornamental plants far away from your sewer line and opt for varieties that have small root bases. You can also install physical root barriers near your plumbing system to deter roots from growing too close to pipes. It is also a good idea to invest in annual inspections and routine plumbing service maintenance tasks so you can find out about any potential problems as early as possible and handle the issue before it leads to a more complicated and expensive problem.
Do You Need a Pipe Repair Because of Tree Root Damage? Call Our Staff Today
Is it time for you to find a plumber who can handle your next plumbing service? From routine maintenance to emergency pipe repairs or replacements, our specialists have the experience and technological tools needed to make sure your plumbing system is working at its best. Call the team at Rooter Hero Plumbing of Phoenix, Arizona, for more information or to book a convenient time to meet with a reliable plumber in your area.