Easy Ways To Clear a Blocked Drain
Blocked drains wreak havoc on countless plumbing systems nationwide. Common symptoms include slow drainage, foul odors, and water or sewage backups. Ignored, a blocked drain can turn into a burst one. The good news is there are easy ways to clear a blocked drain. In this article brought to you by Rooter Hero Plumbing of Phoenix, we will review some of these methods. Our dedicated plumbers are also ready to deliver professional clogged drain line cleaning if you need. Routine drain line cleaning can significantly reduce the risk of blockages.
The Quick and Dangerous Way
There are many chemical drain cleaners on the market nowadays, but we do not recommend using them! The convenience of these products can be deceiving. Chemical drain cleaners advertise quick results, but the long-term damage might not be worth it. The harsh chemicals in the substance can speed up corrosion of your pipes and drains, shortening the plumbing system's life expectancy.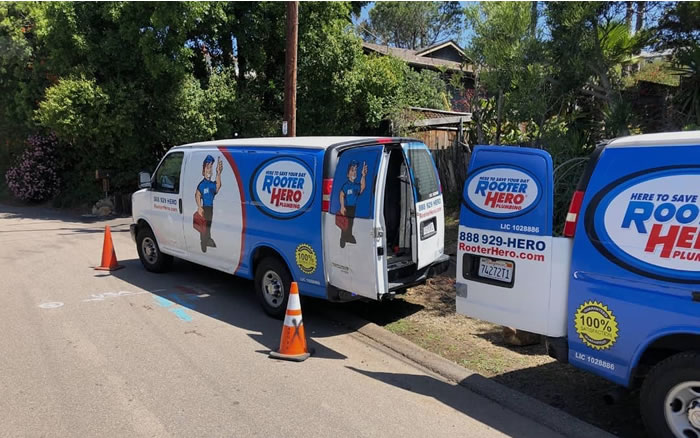 The Quick and Natural Way
If you truly want to steer clear of chemicals, then go with water! Pour hot water down the drains to break up debris and soften any hardened fats, oils, and greases. Do not boil the water though! Boiling water can be harmful for drains. This method works best on metal pipes. If your drains are made of PVC, then keep the water temperature below 170 degrees. If you are not sure what your pipes are made of, then play it safe and use hot water rather than boiling water.
The Other Quick and Natural Way
For the more stubborn blockages, you can use the other "natural way." The baking soda and vinegar mixture is infamous for its part in the elementary school science fair, but the concoction is truly magical. Sprinkle about a half cup of baking soda into the affected drains and follow it up with a cup of vinegar. Listen as the mixture sparkles and fizzes. After about an hour, or once the fizzing completely stops, flush everything down with the original natural way: hot water!
The Old-Fashioned Way
The old-fashioned way can get messy, so prepare the area by clearing out the area. Remove any excess or backed-up water with a bucket or bowl. Grab your plunger and some elbow grease. Form a tight seal with the drain opening and use a firm, up-and-down motion to force water against the blockage. With some power and luck, you can break through even some of the most stubborn blockages. Then, use one of the other methods for the detailed cleaning.
You can also opt for the drain snake. If you do not have a drain snake, you can make one by unraveling a wire coat hanger and duct taping some clothe on one end. Push the drain snake down the drain line until you feel the blockage. Break through the obstructions and pull the auger back out to remove the debris.
The Safe and Thorough Way
For long-lasting results, consider professional clogged drain line cleaning once every couple of years. Rooter Hero's plumbers in Chandler Heights use sophisticated video technology and pressurized water for safe and thorough cleaning. Call now to learn more and schedule an appointment.